Imagine, for a moment…
We're sitting together on a bench, on a bridge overlooking the river mouth.  The sun is rising or setting across the horizon, painting watercolours in the sky.  You open your mouth, as if to say something, and you take my hand.
And it isn't until then, until that moment that you know.  For the first time, you take my hand goodbye.
And a meteorite or a plane or something streaks across the sky to shatter the bridge's foundations, and you drag me with you, or I drag you, as we race to get off the bridge before it falls.
With the bridge, collapses our life together.  Moments that we thought we had turn to ash in our mouths, and you can't remember if we were ever truly happy.  Perhaps we were just trying too hard to accept the truth.
The city we run through is a photo album, an architectural collage of our lives together, mismatched balconies and rooftop gardens which make no sense except in the particular psychography of sharing an era.
It's our city, more so than any of its component parts ever were.  And it doesn't care about us, because those cities never did, and it doesn't always support us, because those cities seldom do, and it tries to stop us, because it knows we're passing through.
We grab and catch and throw each other across an endless processions of architectural memories, racing hand-in-hand through this museum of us.
Sometimes, I fall and you catch me.  Lift me up to your level.  Sometimes, it's you that jumps to grab my hand.
We work together.
We have to.
For those of you watching from home: We're making a game.
Really, seriously, actually… which must officially make us Game Designers in some capacity (albewe neonates at best, with an awful lot to learn).
Let me catch you up…
About the time I last wrote to you (oh, Reader) we were in the arduous process of putting together a team of Game Designers.  This group of mysterious and powerful wizards would be charged with the creation of a World.  Beautiful.  Unexplored.   Something entirely unseen.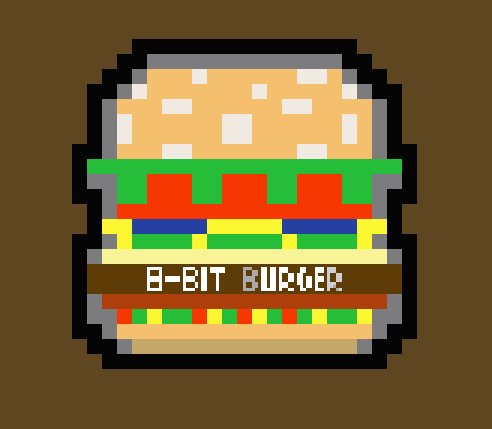 That team became the 8-bit Burger, and we immediately set about designing a Game which we felt might reflect our impressions of the universe…
…we knew from the very beginning that it had to be human, flawed and fragile and emotional.  We wanted it to capture us at our most vulnerable, and so we decided to tell the story of a break-up.
Of that moment when your skin feels clammy and your spit tastes bitter in your mouth, and you look back through the time you had together and try to figure out which were the happy times, and in which we were simply pretending to be happy for fear of losing each other.
Our heroes race back through the psychogeography of their relationship, a city built of their life together and hostile in the way that all memories become tainted by a break-up.  The city collapses under them, it shifts to hinder them, it strives to slow, to stop, to hurt them… and dotted through it are brief moments of peace, oases of solid ground in which our characters can rest.
They have to work together, they can't do it alone, They run faster hand-in-hand, they have to be there to catch each other, to throw each other, to clear the way for each other as best they can.
With each happy memory, they get closer to the beginning, that moment when they were truly happy and in love.
***
This isn't a game about fixing a relationship, though, it isn't a game about falling back in love.  It's a race back in time, lost and forgotten, an attempt to understand the events after the fact… the autopsy of a relationship.
If you were always there to catch me, and I never for you, then perhaps it was my fault (after all, it takes two).  Or maybe we did everything right, and it still didn't change.  Life is weird and complicated, sometimes you miss the train.
– Obviously, this is a two-player game, and we decided to make it a local co-op game (to much consternation from the audience).  You have to sit side-by-side and talk to each other to make it.
You can't do it alone.
We wanted it to be a game you could play with someone you know, a game that would reward you for knowing each other well, and maybe let you know each other better for playing.
– It's a 2D game, our characters can only move left and right across the face of their city, leaping and throwing and catching each other like a cross between free runners and trapeze artists.
– It's a 3D game, our characters can run around the corner of city blocks, down into alleys if they chose, the camera pans and turns to keep them moving across it's screen, always left and right.
– It's an old scrap book, our scenes are high-contrast, over-saturated, vignetted in photo-fading.  Our world is stain-textured and half-tone dotted, imperfect and anthropomorphous.
We built it using the Unity3D engine, and it's slowly taking shape.  Pretty soon, we'll have something to show you. Maybe something you can play. Maybe with someone you know.